One certainty about growing older is that you grow wrinkles, and not necessarily wiser.
This is a classic from the rock genre, a hit I will always love.
Bon Jovi, Always (1994)
This was also the years men sport long flowy hair.
Gotta love the 90s.
Stumbled upon something that triggered reading about the Iranian Revolution of 1979 which toppled the last Shah of Iran from his monarchy in place of a new Supreme Leader which is (till today) governed by an Islamic theocracy.
It was this sentence that made a lot of sense about 'brain-washing' and 'blind-siding' :
Revolutions, Islamic and otherwise, seldom deliver on all their promises, and a clear external enemy can serve as a useful diversion from internal problems.
Think North Korea too.
Familiar? Well, I don't know, I'm probably another cog in the wheel. But when many of these cogs decide to stop working (and start revolting) in the tangible yet invisible machine that they supposedly serve, things can go.... awry.
You know the saying "No news is good news."; to be frank, we could all use a little more of this absence of bullsh*t. I'd prefer it more than anything in my daily dose of reading.
In my feeble attempt to revive this blog, let me update about the goings-on in the past couple of weeks so that I don't forget what I've been doing (in case my old brain decides to forget them unwittingly). I'll get to the subject that the title alludes to in a bit.
Last Thursday-Friday (9 Oct) - The GE Women's Network Annual Summit 2014, where I was emcee for the day (my main responsibility was to introduce speakers/panelist as well as to facilitate the flow of event for the day.) I must say that it really is a little nerve-wrecking to be the one responsible to inform the audience of the background of such high-achieving people who have taken the time to come and spend their time with us. I feel like I was just reading from paper (which is pretty much what I did LOL) and didn't do their background justice (I lacked inflections and worse, I didn't bother to memorise their achievements, but to my defense some of their achievements are too long to say in one breath LOL). But anyway, the main focus lies on the speakers so, I hope my emcee-ing was average, at least.
And then at night was the one where I could let my hair down a little (day time events are always so formal) as it was the gala dinner of the summit, with the theme of "Celebrating 1920s glamour" - think 'Great Gatsby' style dresses, headpieces and accessories. Again, I was volunteered (the irony) to be emcee for the night, along with 3 other people (Tracy, Pei Wen and the one and only Iskandar) and I think I was more in my element at night as I didn't have to be formal in the least bit. We split our jobs and the games were received pretty well by the crowd if I do say so myself. We had 1920s trivia quiz, a Charleston dance-off, a best-dressed runway and a live band. I hope it wasn't too bland. I received some nice compliments from people saying that my emcee-ing was good. So encouraging, thank you all.
Here's a photo of me in my 1920s outfit (I rented it for RM100 from Century Fiesta)
Not too shabby, eh? I think I looked like I came straight from the 20s LOLOLOL (perasannya). But honestly, if I wasn't the emcee, i think I would have been one of the nominated for Best Dressed of the night. I wouldn't mind parading like I'm Heidi Klum or Cindy Crawford because the prize was a one-night stay with breakfast at the Majestic Hotel KL (which was where our event was held). But I guess it would be a conflict of interest (not sure how that works but oh well) if I had won. LOL. Oh well, there's always next year to be a participant and not an emcee, LOL!
The next day was the MasterChef challenge which I didn't particularly feel engaged because I don't cook very well and I was damn tired from two days of having less than 5 hours of sleep -_-"
But who knew that cooking Thai food is actually not too hard? now i know how to make this (Red Rubies):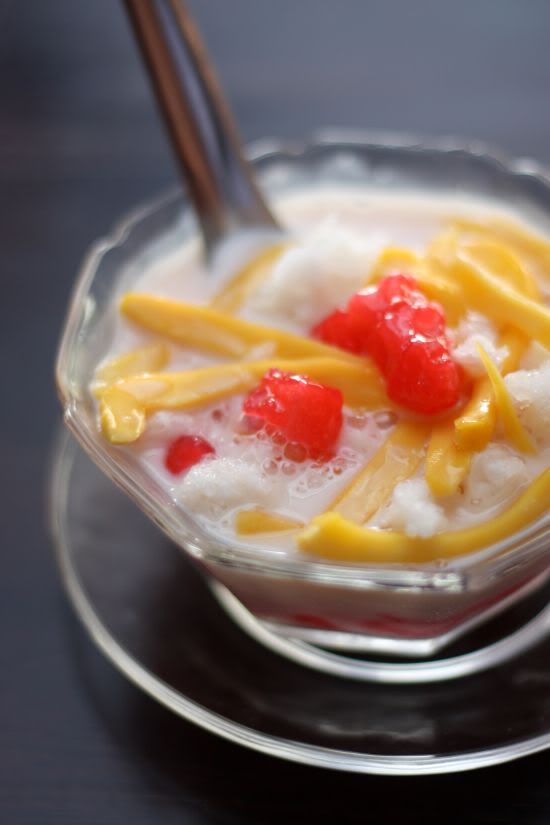 It's incredibly easy!!! One day, I'll probably try it out myself (no promises, but one day..)
That very afternoon after the GE Women's event was over, I was volunteered (yet again) to participate in a competition on how to best remember a new set of GE Beliefs that was being rolled out of late. I was so stressed out because I can't not participate ( I was asked by the HR manager herself) because then it would look bad. But thankfully for awesome GEMP-ers Awatif and Cheok, we managed to put something together in the form of a video presentation. It employed the use of irritating sounds/music and peculiar imagery woven together to make a video that is memorable (in a strange way). Since there were only 4 group participants in total, every group got a prize (I must thank the CLO for making it happen this way also LOL), RM500 Hilton food vouchers yo! Shared among group members of course ;)
So the first thing I won was that RM500 voucher at any restaurant in Hilton (group)
The second thing I won was the 'Caption that GE Photo' contest which was circulated earlier last month through emails, which had an attached photo and all you had to do to participate is to caption what you understand about the photo in 15 words or less.
*rubs palms* this is my time to practise writing copy!
Copywriting is such an art I wish I can spend more time in. Well... what better way to do that than to
try your hand at writing competitions like these!
And with that, I landed myself with RM200 worth of MPH vouchers. much happy!
So the second thing I won was a set of vouchers worth RM200 in total. Off to buy books yay!
on the 8th of September 2014 (which was another Monday filled with the usual blues) as I was driving to work, I was a little earlier than usual.
Then, the rest is history. I won some money and I count myself as truly lucky because the stars aligned for me on this day.
one, I managed to be the first one through the line.
second, i was earlier than usual driving to work to actually catch the cue to call.
third, it was a song I had always known (and loved), and also because it's one of my alarm ringtones (out of 3). #musicmuzik
fourth, I was at the 5th snowball stage and... I won it!
Not to brag here, it's just that I'm losing track of my dates, thus I need to write this down here for me to remember for all earthly eternity.
haha.
This cover of Beyonce's 'XO' by John Mayer is so wonderful.
The first time I listened to it in my car, I was in love with the song.
Thanks Mr Mayer for making a really nice cover of XO.
TBH I didn't like the original by Beyonce all that much.
Then again, I'm really a music person more so than a lyrics one.
Here, do listen:
After around a year of active driving, I can say that I'm quite confident navigating my way around a car in the bustling (oftentimes crazy) roads of KL, including parking (though, this is still my weak point).
Whether being confident makes me a good driver, is up to other (good) drivers to decide.
What I've come to realise about driving, for me, is this: it makes me stressed, irritated and wears my patience thin
very
quickly, especially when half the time I'm on the road, there'll be some level of congestion which sometimes seem to have an inexplicable root cause :S.
I admit that I'm at fault at times too, in particular when it comes to my slow acceleration to cut into another lane, but aside from that, I reckon I do follow the following rules quite well which I hope more drivers will abide more frequently:
Turn your headlights on when the weather is gloomy/cloudy, upon sunset and when it's raining
If there is a pedestrian crossing and people are crossing it, it is the pedestrian's right of way. Don't honk at them for goodness sake.
When one wants to cut into another lane, indicate it using your L-R indicators.
When turning or stopping, please use your L-R indicators. Please, do.
Do not use hazard lights in the event of heavy rain.
These rules aside, I think there are a few driving know-hows that the not-so-good drivers around (myself included) should try and pick up on, and that is: do not use your brakes liberally. Remember that your brakes do not only decelerate your car, but it also turns on the brake lights at the rear to indicate to the driver of the vehicle behind you that you are slowing down. Sometimes, fast-reacting drivers will also press their brakes, which would result in, if the vehicle behind this driver is also a fast-reacting driver, to press his brakes, leading to a trickling effect if the brakes were used to brake unnecessarily (i.e. when the vehicle you're trying to not come to close to is more than 20 m in front and is not pressing his brakes even). Sometimes, I think this is the unfortunate cause of a jam that could have been avoided if everyone had just not step on the brakes prematurely.
Yes, I find myself in this situation (or thinks I am) a lot, which when I'm not in the best of moods, would result in me cursing while driving (which is something I've developed, sadly), along with other driving-related foibles.
The other thing that I've come to realise is that when using the right-lane, one should use their rear mirror liberally (au contraire). Why? Well, sometimes there are people who do want to overtake and as a courtesy to other drivers, the rule of thumb when using the right lane is to give way to such vehicles moving at a faster velocity than you are, and are expecting you to give them way; there is a reason why the right-lane is also called the fast-lane.
Well, I do wish I can be a better driver with every day I drive (e.g. faster parking maneuvering, better distance perception) and that I could stop cursing while driving. It isn't very becoming, but heck, there are studies which demonstrate that
cursing helps relief pain
.
Anyway, that's enough of my driving rant. I wish you all a safe drive every time you get behind the wheel.
Piano by D.H. Lawrence

Softly, in the dusk, a woman is singing to me;
Taking me back down to the vista of years, till I see
A child sitting under the piano, in the boom of the tingling strings
And pressing the small, poised feet of a mother who smiles as she sings.

In spite of myself, the insidious mastery of song
Betrays me back, till the heart of me weeps to belong
To the old Sunday evenings at home with winter outside
And hymns in the cosy parlour, the tinkling piano our guide.

So now it is vain for the singer to burst into clamour
With the great black piano appassinato. The glamour
Of childish days is upon me, my manhood is cast
Down in the flood of remembrance, I weep like a child for the past.



From My Diary, July 1914 by Wilfred Owen

Leaves
Murmuring by myriads in the shimmering trees.
Lives
Wakening with wonder in the Pyrenees.
Birds
Cheerily chirping in the early day.
Bards
Singing of summer, scything through the hay.
Bees
Shaking the heavy dews from bloom and frond.
Boys
Bursting the surface of the ebony pond.
Flashes
Of swimmers carving through the sparkling cold.
Fleshes
Gleaming with wetness to the morning gold.
A mead
Bordered about with warbling waterbrooks.
A maid
Laughing the love-laugh with me; proud of looks.
The heat
Throbbing between the upland and the peak.
Her heart
Quivering with passion to my pressed cheek.
Braiding
Of floating flames across the mountain brow.
Brooding
Of stillness; and a sighing of the bough.
Stirs
Of leaflets in the gloom; soft petal-showers;
Stars
Expanding with the starr'd nocturnal flowers.



The Sorrow of Love by William Butler Yeats

The brawling of a sparrow in the eaves,
The brilliant moon and all the milky sky,
And all that famous harmony of leaves,
Had blotted out man's image and his cry.

A girl arose that had red mournful lips
And seemed the greatness of the world in tears,
Doomed like Odysseus and the labouring ships
And proud as Priam murdered with his peers;

Arose, and on the instant clamorous eaves,
A climbing moon upon an empty sky,
And all that lamentation of the leaves,
Could but compose man's image and his cry.


Habits are in­grained. After years of do­ing things one way, it can be hard to learn a different way.
This piece from Upworthy
(posted by a friend on Facebook) is an interesting TEDx presentation by Tracey Spicer in which she speaks about the hours (which amount to hundreds of days in a lifetime) we women spend every single day on grooming ourselves to be on par with society's (somewhat unfair) standards of how an acceptable woman should look.
This talk by Spicer conjured a few thoughts about what standards of grooming I have for myself, and what magnitude of time it takes up for an average woman walking down the street, and how this all adds up to the other things we could have been more productive in.
Personally, I don't think my standards of grooming is that high (I take less than 10 minutes after the shower for everything else outside the shower), mostly due to my lack of patience, but I think even this adds up to the amount of time lost doing other more productive things.
She has a point to it, in that society's unreasonable expectations about how a woman
should
look is playing into the could-haves of a woman's achievements. I concur. Then again, we all have some 'could-haves' in life which we may regret later on. But I digress.
I think the point is.... it's a matter of balance.
I personally think that grooming is important, up to a certain extent. Everything beyond that is optional and doesn't help that much further. Some people have to groom themselves for hours every week because it's a job requirement (think female flight attendants, models) but I don't think this makes it universally acceptable nor required. Being clean and neat is a good benchmark, and not having to be
perfect
.
I'm not sure where I'm getting at with all this, especially since I can think of so many well-groomed women who seem to have successful careers and being able to balance both work and family and personal grooming well enough that they put women like me to shame. They set pretty high standards, so I'm not sure if they themselves set the bar high for female grooming, or society at large plays a bigger role (which includes the male gender group). I don't know, but Spicer does put things into perspective as to how many frivolous things we perform everyday which could really be better spent
elsewhere
, like reading a book, or working out, learn a new skill like sewing, to name a few.
The point is, I believe that we musn't lead our lives anxious/insecure at the thought of how we appear. Learning to be comfortable in one's own skin isn't about caring little (or none at all) about our appearance, or shunning the comments of others who are sincerely concerned, but rather feeling confident of who you are wherever you go, keeping healthy and staying positive.
I admit that I have trouble feeling good about myself and living in my own skin occasionally, but I'll take a lesson from this video and learn that there are other things that I do good at which I can concentrate my time on, because that
certainly
makes me feel good about myself.
As I have been assigned the task of being 'DJ' for my sister's upcoming wedding, I have been on the hunt (with the aid of the wonderful Spotify) for yesteryear's top hits, or that of the most nostalgic from the 90s.
I've currently a playlist that has around 50 songs, and I'm still aiming to add another 50 to it before I call it a day and let the queen (i.e. the sister) have a listen and be the final editor of the playlist.
In the hunt for this 50, I think there are a few things I can come to conclude about songs from those years:
-lyrics were more
lyrical
and less repetitive (read: more meaningful and eloquent)
-music was more musical (i.e. with cooler chord progressions and harmonies without weird,
artificial,
headache-inducing sounds)
-songs are just more memorable for the simplicity and poetry of the words, without being explicitly so
Maybe I'm partial toward the past (as I've mostly always been), but there's something about songs of old that I can never grow old of. And that's not a bad thing, is it.
Another thing I came to realise when listening to these old songs (by old, they're actually post- my birth year, haha) is that the words I used to sing along to, I finally now understand the meaning of with the experience of age (and a wider vocabulary). And boy, how much meaning I missed in listening to those songs.
I guess I have a greater appreciation for them now, more than a decade and a half later?
Take for example this song, "Affirmation" by Savage Garden:
This song is a gem:
every
line in the song is an affirmation, most of which I completely agree on. There are
so
many unique words to this song; I think you don't really get so much of this these days.
Of course, the 90s had its share of lame, cheesy songs, but for some reason mainstream songs then weren't filled with themes of sex, drugs and recklessness as how they are full of these days. I don't think this sets a very good example for the young now, especially if celebrities are glorified for the very lifestyle they sing of.
Hmmmm. Doesn't seem right.
ANYWAY, one day when the wedding takes place, if I remember, I'll share that list here. It's been a great exercise of reviving the good ol' times in my mind.
We act as though comfort and luxury were the chief requirements of life, when all that we need to make us happy is something to be enthusiastic about.
--Albert Einstein
So much truth, Einstein.
Haven't been writing on my blog for so long (too long), so I'll post an article written by the renowned Malaysian activist, Marina Mahathir, who is also the daughter of Malaysia's longest serving Prime Minister, Tun Mahathir Mohammad.
Her musings in an article dated the 2nd of January 2014 strikes a chord with me, and what I believe to also be for a large number of intelligent Malaysians.
http://www.thestar.com.my/Opinion/Columnists/Musings/?c=%7B0AAC1B04-0EC6-4B30-8BD1-9EF6DC5B7875%7D